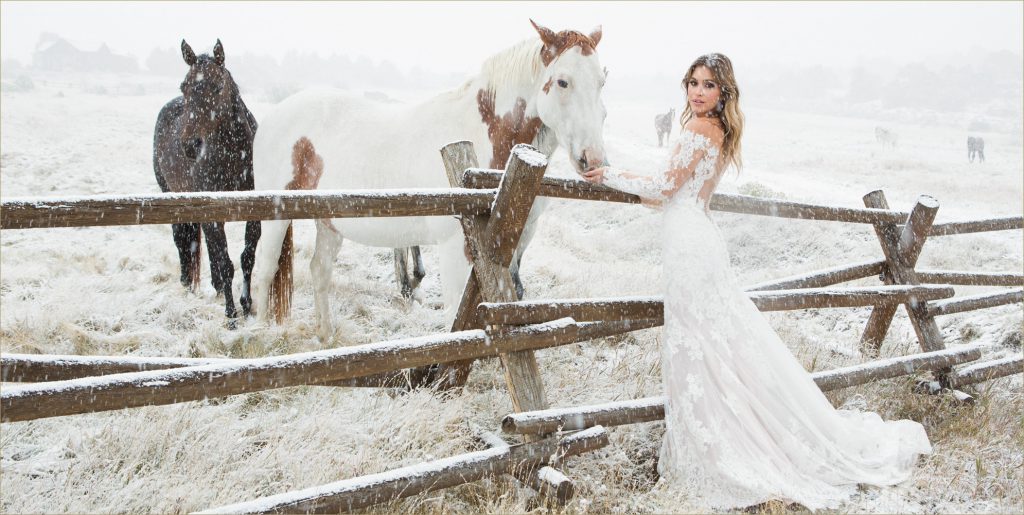 Winter weddings are one of the most beautiful opportunities to cozy up with your loved ones and celebrate one of the most exciting, monumental moments in your life. Winter weddings are beyond fabulous, but the most difficult encounter about these amazing days is how chilly it can get at these events. From frosty toes, rosy cheeks, and shivering guests, you want to make sure, whether you are the bride or a guest, you are as comfortable as one can be during this exciting day!
Dress for A Winter Wedding
As mentioned, winter weddings can be absolutely stunning, which means your outfit should match just that! When it comes to guests, any deep, jewel-toned gowns are great to wear. During the colder months, you are fairer than any other time of the year; that's why wearing a rich color will be most flattering compared to rocking a pastel shade in February. Along with a beautiful, rich tone, a black faux fur shawl is a great addition to any winter look! Now that the guests will be looking fabulous, it's time to focus on the bride.
When it comes to winter weddings, we always suggest brides wear whatever they're most comfortable in! A wedding is a once-in-a-lifetime opportunity to wear what makes you feel most beautiful. We sat down with our bridal manager, Christina Dougherty, to get her opinion on what a bride should wear when she's saying "I do" during these frigid months. "The season should never matter; only her feelings should matter. Whether she goes for glitter or a floral lace pattern, any gown works great with any season. You should only dress for you and what makes you happy. Your dress should have your personality in it, not a season." So, a bride should wear whatever she desires: It is her big day and if that means a strapless mermaid is her dream dress, that is exactly what she should wear!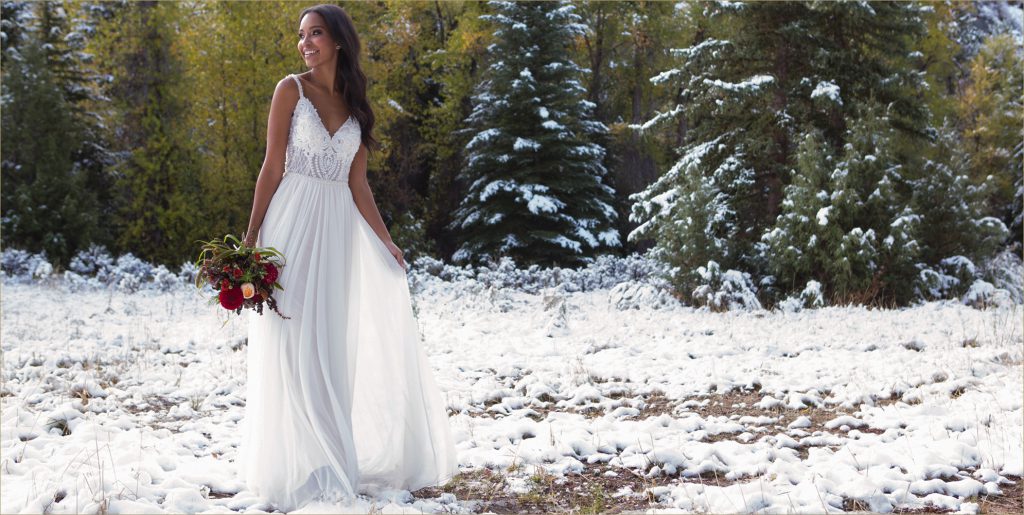 Shoes For a Winter Wedding
Shoes are one of the most fun and fabulous accessories to shop for (and one that you can even get carried away shopping for!). When it comes to your wedding day, get ready to pray to the shoe gods to find the most perfect heel! Winter weddings are tricky when it comes to shoe shopping considering weather can really play a major role. Your wedding dress is one thing – this is your chance to express yourself and feel like the princess you always imagined yourself being – but when it comes to shoes that's a different story! You need to find something gorgeous, yet comfortable. We always suggest the brand Badgley Mischka to our brides as we believe they are the most beautiful wedding shoes you'll ever find and are extremely comfortable. They're meant for all-day wear; this way, your feet will be thanking you! Finding a beautiful, comfortable pair is important for any wedding, but for a wedding held any time from November through Februrary, we also suggest rocking a closed-toe look. Naturally, your toes and fingers are the first to lose blood flow in the cold and turn that not so flattering blueish color. Nobody wants that to happen to them, especially on a day where all eyes are on you! A beautiful closed-toe heel with a glamorous brooch is exactly what every bride needs to be warm, comfortable, and looking beautiful!
Additional Tips for Your Big Day!
Some additional fun, fabulous tips for hosting a winter wedding include what to pack in your purse, some additional ideas for d cor, and how to stay nice and toasty!
Your Purse
When it comes to what to put in your purse for yourself and your bridal party, it should include tissues, hand warmers, and lip balm! These may sound silly or make you question why you would need such things, but these tissues aren't just for the tears you may shed as you say your "I dos", but for when you are outside in the cold taking your photos! Naturally, your nose will begin to run and there is no need to sniffle throughout all your wedding photos. The next must-have is hand warmers! Everyone will be looking at that stunning ring on your left hand and the last thing you want is for your hands to be as cold as ice! This goes for your bridal party as well. They'll be outside with you and your partner the entire time and should be just as cozy as the happy couple. Lastly, you must have some sort of lip balm in your purse! With the number of friends and family you'll be kissing hello and the number of photos you'll be smiling in, it's important to not have chapped or cracked lips. A bride should look like a million bucks at all times and helping her stay cozy will make the day that more memorable!
Winter Decor
When all is said and done, this is a winter wedding, after all, so embrace it when it comes to your decor! We love ice sculptures around the reception; this is such a classic way to decorate while incorporating your theme.
Keeping Warm
Any part of the wedding that is outdoors, such as a reception or cocktail hour, must have multiple outdoor heaters! This is a great way to have your guests cozy up and chat by a heater. Or, even better, an amazing little fireplace to have a cocktail in front of is always a great addition to any wedding!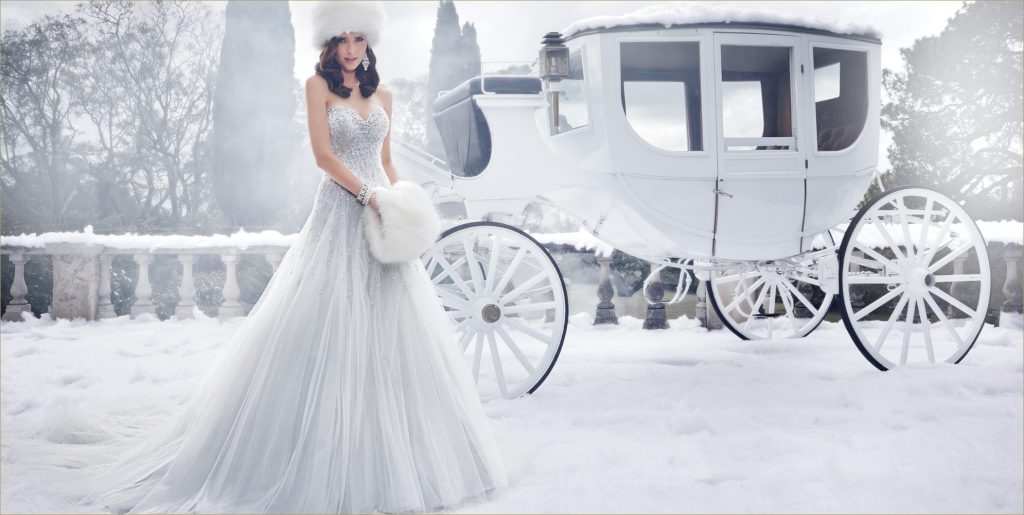 ---
If you're a winter bride and have any other suggestions for those getting married, shoot us an email at PR@castlecouturenj.com so we can share with our Castle Couture ladies!