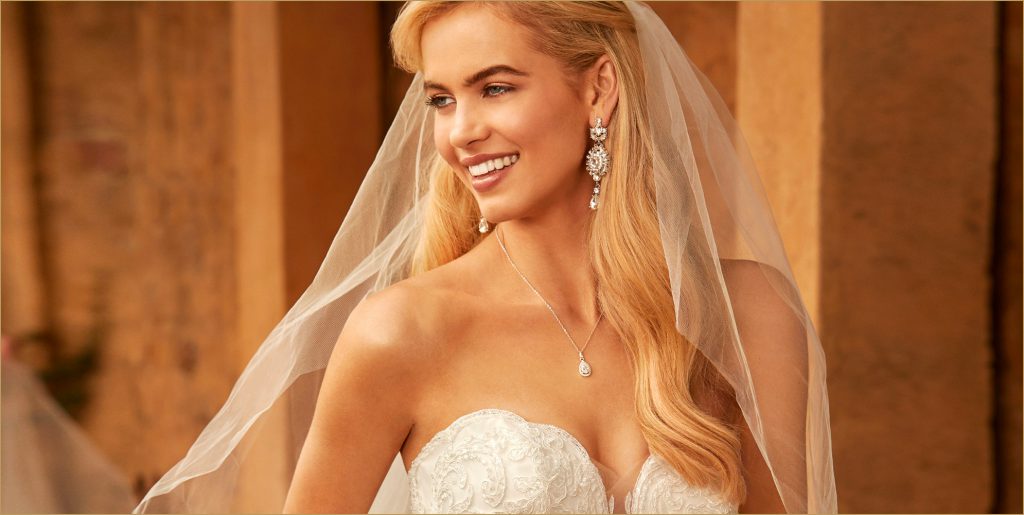 Bridal Accessories: Complete Your Bridal Look
You have your stunning bridal gown, now it's time to jazz it up with some fabulous accessories! Bridal gowns are all so unique, but what makes your look different and custom to you is the way you accessorize. From your earrings to your veil to your handbag, there are an endless number of ways for a bride to make her look exclusive and catered to her style. Let's break down all the accessories you should check out next time you're at Castle Couture!
Add Some Sparkle!
Diamonds truly are a girl's best friend, so adding some bling to your wedding day look is exactly what you need to enhance any bridal look. Every bridal gown, no matter the style, should have a pair of earrings. Whether this is a classic stud, glistening teardrop, or bold hoop, any earring will bring the eye up from your beautiful gown to your eyes. A big question we receive is typically in regard to when it is "too much" when it comes to accessorizing. We never believe it is ever "too much"; it is really up to the bride and her personality as to how much bling she wants to have. It is the bride's big day and everything should be catered to her liking and preferences.
If you are one of those brides who happens to love lots of bling, we have you covered! Castle Couture offers an array of bracelets, necklaces, earrings, and much more when it comes to our jewelry selection. Whether you are looking for fine jewelry to treat yourself with or something simpler like Swarovski crystals, we have something for every bride.
Grab a Bridal Bag
An accessory that is commonly overlooked would be an evening bag or clutch for the bride. The special occasion purses we have available at Castle Couture are beyond beautiful. They range from ivory and silver to pops of color, all embellished with glamorous beads that will enhance any bridal look. Lots of brides worry about what handbag to bring because, like anyone, they have their necessities that need to be taken care of, such as their phone, lipstick, mints/gum, or anything else you may need to have right on hand that day. The evening bags we sell here are a perfect size: Most are about seven inches long, which is ideal for fitting in a cell phone and a couple of other must-haves.
The Perfect Veil
Veils are one of our favorite accessories! They are such a fun way to add to your look and really enhance your dress overall. There are a few different styles of veils. Some popular ones include elbow, fingertip, chapel, and cathedral! Let's quickly break down the difference between each so you can ask to see some at your next bridal accessory appointment. Starting from the top would be the elbow. This length is just as it sounds: It ends at your elbow! Just how a fingertip veil literally ends at your fingertips. Both are extremely common styles, they are easy to work with, stay very well in most hairstyles, and can be left on all night (if you want!). The next length brings us to chapel: This one goes a little past your ankles and closely follows behind you on floor. This is a very traditional look and is beautiful with a simple sheath gown. The longest veil of these four is the cathedral length. This veil is at least 100 inches long and gives extreme princess vibes. To learn more about what veil is right for you and everything you need to know about what a blusher is and how to wear one, check out our previous blog, Veil 101. We sat down to chat with one of our accessory stylists, Alice Seepersaud, and asked what advice she would give to a bride who is beginning to shop for veils. "I always love to encourage my brides to go with a cathedral length veil. No matter how long or short your train is, a cathedral veil will complete your bridal look and add drama to your gown. Also, try and keep the detailing of the veil simple. Let your dress speak for itself!"
When to Shop?
We always encourage our brides to purchase their bridal accessories the same day they purchase their wedding gowns, but, of course, that is not always the case. If you are one of our beautiful brides who did not say yes to these accessories the day you found your dream dress, you can always search for accessories the day you come in for your Try on Gown appointment. (A Try on Gown appointment is when you come into the boutique to try on the gown that was ordered for you and to ensure everything is perfect.) At that time, you can meet with our accessory stylists so they can bring over different styles of veils, jewelry, and handbags, and even show you the selection of Badgley Mischka bridal shoes that we offer!
---
Stop in anytime during operating hours or book an appointment so we can help you find the perfect accessories.