Hello beautiful brides! Have you been struggling to find where to start your bridal planning journey? Castle Couture is here to help! We have partnered with Deirdre from Divine Elegance to bring all our essential bridal insight to our incredible brides! Deirdre Luster, CEO & Creative Director and Lead Planner of Divine Elegance by Deirdre is a Luxury Wedding and Event Planner with 15+ years of experience in planning exquisite weddings, festive celebrations, and creative corporate events. A native New Yorker now living in New Jersey, she brings her passion for excellence and her" get it done" energy to each project she takes on.
Deirdre prides herself on working with each client individually from vision to implementation to create their unique event. Over the years, she has also orchestrated unique and luxurious bridal networking showcases which helps brides-to-be choose vendors so they can achieve the joy-filled wedding of their dreams, while they provide brand recognition and financial gain for industry professionals. She works all over the Tri-State area, including destination events in the Caribbean and South America. Deirdre has also collaborated with industry icons including Preston Bailey and have produced celebrity events for the likes of supermodel Christie Brinkley, Real Housewife of New York Jill Zarin, and a host of others.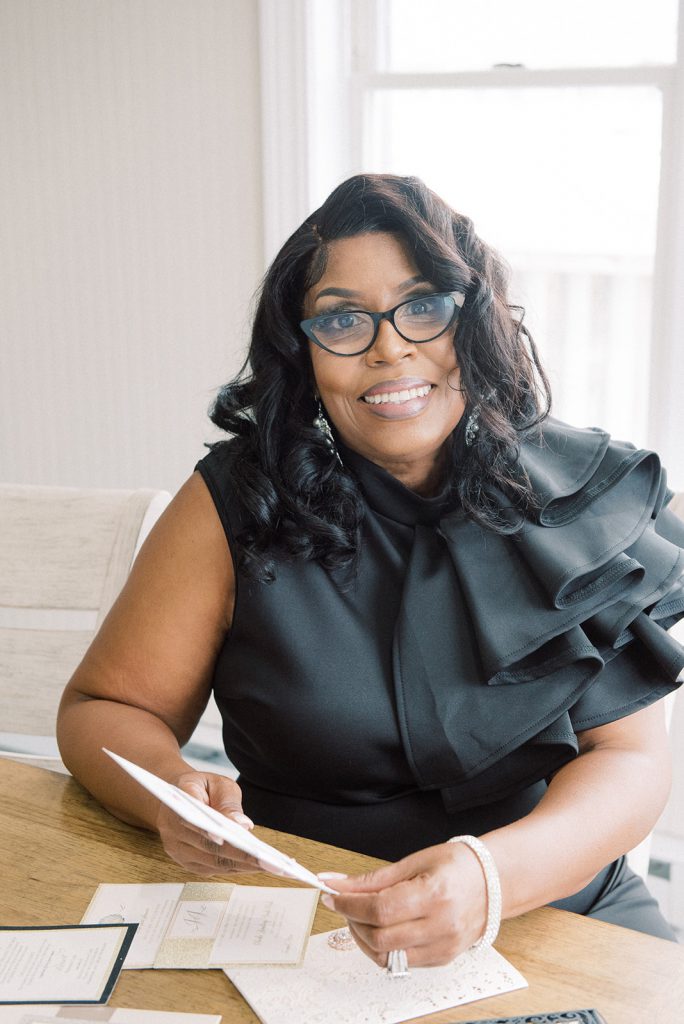 Her website is: https://elegancebydeirdre.com
Now that you know a bit about the expert Wedding Planner herself, look at the step-by-step breakdown that Castle Couture and Divine Elegance by Deirdre created to ensure a smooth wedding planning process. There are many elements to keep in mind when shopping, but here are some of the main things to remember when looking for your DREAM gown.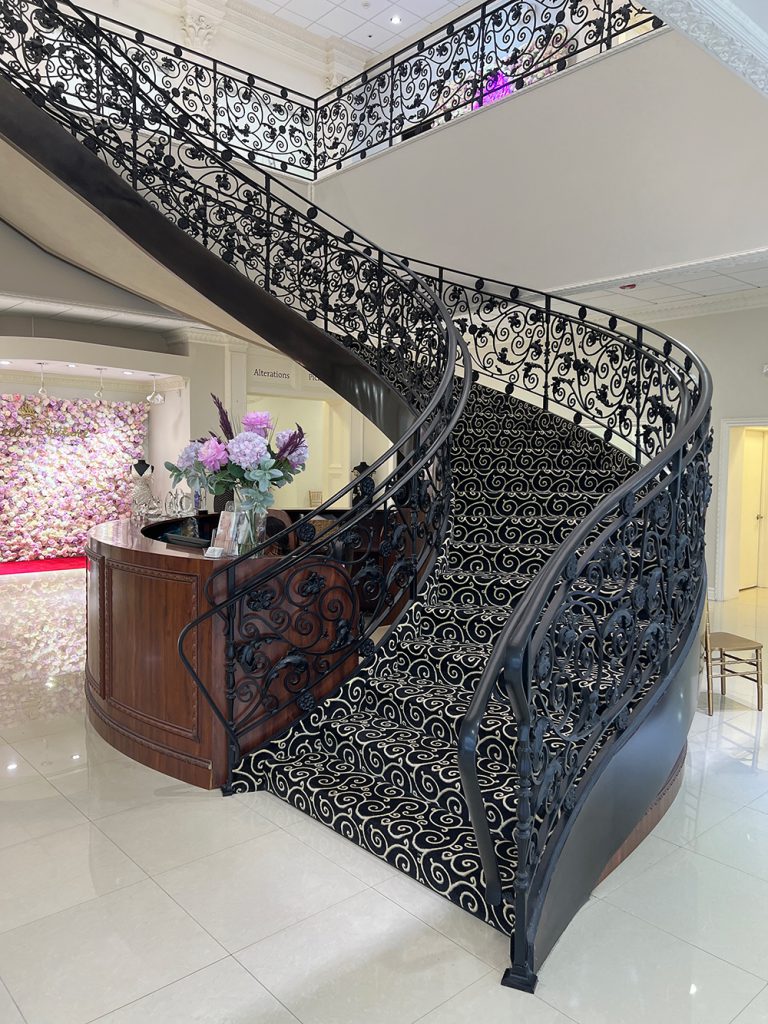 Helpful Advice for Planning a Wedding
Start wedding planning early
The earlier you get onto it, the easier, and less stressful it will be as your day approaches. Having a clear plan before you start will help you keep on top of everything and be sure that you don't forget something important
Appreciate Wedding Planning
The time couples spend wedding planning allows them to decide how they want to navigate familiar traditions, cultures, expectations, and needs as they transition into their new lives as their own family. It's important to see this time can be an adventure, rather than a stressful experience!
Choose the Date
The first item on your wedding planning checklist should be deciding on a date. Wedding season is usually in the late spring through early fall with peak season between June and September make sure to book early and lock in your dream date!
Plan a Budget
This step is the most important in your wedding planning process. Don't spend anything until you've set a realistic budget. Before making any decisions about your wedding, ie choosing your dress, venue, or decor, you should determine your guest count and your wedding budget to ensure you don't go overboard with spending! There are so many different options to ensure a spectacular event while respecting your budget. Consider the total cost of your celebration before anything else!
Be selective with the guest list
Once you've decided on the type of wedding you want to have, you can start on your wedding invite list. Sorting the guest list early is important so you can then focus on finding the perfect venue that will cater for your chosen number of guests. Costs per person will most likely be your biggest expense, so don't be guilt-tripped into inviting people you don't want to attend. It's the biggest and hardest decision in the whole planning process, but it must be the couple's decision only!
Consider Hiring a Wedding Planner
Many newly engaged couples underestimate the importance of having a professional wedding planner to assist them in the planning of their big day. Today, many engaged couples both work full time, have a robust social life, and every second counts. Having a professional guiding you through the planning process and paying close attention to the details, will create a smooth and exciting wedding day. Also, wedding planners have established relationships with vendors, which can help with finding special offerings on catering, entertainment, venues, and more.
Create an Inspiration Board
This is one of our favorite ideas! Creating an inspiration board allows for your creativity to flow. On this board you can organize your thoughts, visions and really help your vendors have a clear idea as to what direction you would like to take your event. Hosting your color scheme, dress inspiration, floral arrangements and so much more is an amazing start to an extraordinary event.
Design a Wedding Website
A website is the easiest way to keep your guests and wedding party in the loop! There are so many options out there such as Zola, With Joy and The Knot. These websites allow you to inform your party on dress code, location and scheduling. This is an awesome way to give your guests guidance without them needing to reach out to you or your partner. Save-the-Dates should be sent around eight to 12 months before your wedding to give guests plenty of time to plan.
Trust Your Gut
Follow your gut and do your research when it comes to choosing your vendors, don't settle. Surround yourself with people who are looking out for you have your best interests instead of trying to sell you something you don't really need.
Lock Down Your Vendors
Planning a wedding means working with a variety of vendors to make sure your day is flawless. Vendors can range from your Venue, Floral Designer, DJ Entertainment, Bridal Salon, Makeup artist etc.
Book the best photographer you can
Great Photography is paramount. It is the single most important purchase you'll make; one you can never redo therefore contract the very best you can when it comes to preserving lifelong memories! Your wedding album is how you'll relive the cherished memories of your day, so don't underestimate the importance of a good photographer. Research carefully and find someone who understands exactly what you want. Engagement shoots are a great idea too, because you'll get to know your photographer better as well as practice your poses!
The Right Officiant
Choosing an officiant often gets left at the bottom of a wedding planning checklist but it is such a key part of your big day. Once you find one you love, make sure you can meet with them prior to your ceremony to discuss everything you are envisioning and don't forget to discuss availability for the rehearsal!
Select your Besties
Your bridesmaids should be your biggest support throughout the planning process, so choose wisely. Friends you've recently made or cousins you rarely see are not the best choice. Instead choose your sisters, long-term best friends or close relatives. The last thing you'll want is to look at your wedding album a few years later and to be no longer in touch with one of your bridesmaids.
Give your groom his own responsibilities
Your fianc may not have been planning his wedding since he was five, but he will have his own ideas and opinions and will want a say in the planning. Listen to what he says and remember it's his day, too. Most guys like to get involved with the menu, music and budget spreadsheets.
Choose Formal Wear
Typically, wedding dresses should be bought nine months to a year out, while bridesmaids dresses, groomsmen tuxes, and the groom's tux should be bought or rented about four to six months out. When it comes to shopping for your bridal gown, it is beneficial to have inspiration pictures ready beforehand so your stylist can have an idea of what you might like at the start of the appointment! Being open-minded and willing to try different styles can help with finding a gown you'll feel perfect in. This is your day so feel free to sit back and relax while your stylist pulls gowns that she feels fit your criteria of style and silhouette. Do not be surprised if you find your forever gown on the first try, it happens all the time! Make sure to stay upbeat and positive as this is an exciting time in your journey!
Feel Fabulous, but don't overdo it
Everyone wants to look fab in their wedding photos, so if you'd like a confidence boost, now's the time to adopt a healthy eating plan and practice a few simple exercises to tone your body. On the other hand, going on an extreme diet is not a good idea. Just remember that your groom wants to marry you exactly the way you are!
Hair and Makeup Appointments
Hairstylists and makeup artists can book out months in advance, particularly during peak wedding season. This means that if you have an artist in mind, make sure to reach out to them immediately after selecting your date. A lot of brides don't think about hair and makeup until closer to their selected date, but by then it may be too late to lock in your dream artist!
Plan Your Honeymoon
Planning a wedding can be stressful enough without thinking about another trip! But think of planning your honeymoon as your reward for all that hard work. Reserve Hotel Rooms If you have out-of-town guests traveling for your wedding, work with a local hotel to reserve a block of rooms.
Create Your Registry
Create a wedding registry early in the planning process to give guests time to purchase gifts and continue to celebrate you and your partner's love!
Mailing Wedding Invitations
Wedding invitations are usually sent six to eight weeks before the big day.
Set Details for the Rehearsal
The rehearsal dinner is typically held the night before the wedding and is a great way for the wedding party to run through the ceremony.
Get Your Marriage License There is one very important wedding planning step that can't be forgotten: getting a marriage license! This will lock your love in the eyes of your state.
Repurpose Your Flowers
It's a great idea for couples to donate their flower arrangements after their wedding, perhaps to local charities, hospices, hospitals, and nursing homes. Allowing the florals to brighten up someone's day, will make the couple happy knowing one of their large budget items is going to be appreciated a second time around.
Ignore "Rules"
Couples get wrapped up in what they are and are not supposed to do, so that they completely forget this is the one day they can do whatever they please. There are no rules Nothing is set in stone—throw out whatever preconceived notions you had about how a wedding is supposed to go.
Keep the Day Personal
Your wedding is all about the two of you, so let if be reflective of your stories, family backgrounds, shared interests, personal styles and travels instead of being built on recycled ideas from other weddings. From the stationery and favors to the outfits and first dance, guests should say 'that's so them!'
Make Marriage Your Priority
In the rush of planning, don't lose sight of the big picture. Nothing about a wedding is as important as the marriage that will follow. A wedding is a beginning, not an end in and of itself. There will be different points of view, and perhaps even disagreements, as you plan your wedding. Always make your marriage a priority, the details of the wedding are just those, details.
Embrace the Experience
Cherish your journey. Many people focus on the destination and forget that getting there is half the fun. All the shopping meetings, tastings, choices consider it a process of self-discovery, creativity, and collaboration. How couples communicate and listen to each other while they're planning is a direct reflection of what their married life will be like. As with any journey, who you travel with and how you travel can be more important than the destination
Remember to focus on your partner and your new life together, have fun with your friends and family, and allow beautiful memories to be made. You deserve to have a good time! Being a bride is a wonderful and lively adventure that Castle Couture aspires to be a part of every step of the way! We hope this was helpful for all our brides that are eager to get their journey started! If you enjoyed our helpful bridal tips, you can follow us on Instagram at @castlecouturebridal for even more fun wedding day content! Congratulations beautiful brides, we cannot wait to meet you!